RUGER MINI-14/20GB
Nationality: KFS
Weapon Type: Assault Rifle
Caliber: 5.56 x 45 mm (.223 Remington)
Muzzle Velocity: 3296 fps
Length: 95 cm
Weight: 2.90 kg
Type of Fire: Single shot, or full auto
Feed Device: 30 or 40 round magazine
Magazine Weight: 20: 0.41 kg, 30: 0.58 kg
E-Factor: 14
This is the standard long-gun in use by the KFS. It is sturdy, easy to use and maintain.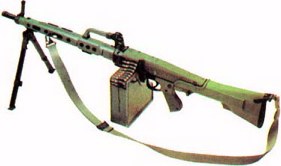 Cetme Ameli 5.56 beltfed SAW (Decendent of MG42)
Nationality: Spain/KFS
Weapon Type: Squad Automatic Weapon
Caliber: 5.56 x 45 mm (.223 Remington)
Muzzle Velocity: 2940 fps
Length: 101 cm
Weight: 6.50 kg
Type of Fire: Full automatic
Feed Device: 200 round belt in box
Feed Device Weight: 2.70 kg/ 200 rounds
Penetration: 14
This is the standard Squad assault weapon. There is normally one assigned per squad.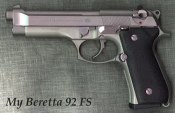 BERETTA M92S
Nationality: Italian/KFS
Weapon Type: Automatic Pistol
Calibre: 9 x 19 mm (9 mm Para)
Muzzle Velocity: 1155 fps
Length: 21.60 cm
Weight: 0.95 kg
Type of Fire: Double Action Semi-automatic
Feed Device: 15 round magazine
Magazine Weight: 0.20 kg
E-Factor: 9
This is the standard side-arm assigned to NCO's.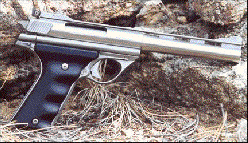 .44 Auto-Mag
Cal. 11.2 x 32mm
Length: 27.6cm
Muzzle Velocity: 1640fps
Wt. Empty: 1.5kg
Wt. Loaded: 1.759kg
Eff Range: 200m
Max Range:2790m
Type of Fire: Semi-Automatic
Feed Device: 7 round box magazine
Feed Device Wt. .295kg
Basic Load: 3 Magazines (21 rds)
Load Wt. .885kg
E-Factor:14
This is the standard side-arm of KFS Officers. It is a prestige weapon used as much to intimidate, as to effect damage to the enemy. As the KFS is a conscript military the lines may be blurry.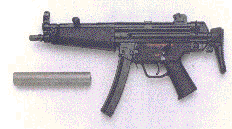 H&K MP5SD
Manufacturer: Heckler and Koch
Length:
Collapsed stock: 26.29 inches (49 centimeters) with silencer
Extended stock: 31.98 inches (66 centimeters) with silencer
Weight: 8.44 pounds (3.38 kilograms) (w/30 round magazine and silencer)
Bore diameter: 9mm (.355 inches)
Maximum effective range: 328.1 feet (100 meters)
Rate of fire: 800 rounds per minute
Features: The MP5-N fires from a closed and locked bolt in either the automatic or semiautomatic modes. This gun is recoil operated and has a unique delayed roller locked bolt system, a retractable butt stock, a removable suppressor, and illuminating flashlight integral to the forward hand-guard. The flashlight is operated by a pressure switch custom fitted to the pistol grip. The present inventory includes both suppressed and non-suppressed versions of the MP5. The basic configuration of this weapon makes for an ideal size, weight, and capable (accuracy, lethality, reliability, etc.) close quarters battle weapon system. Standard carbine issue for KFS Officers while in forward deployed locations.



Barrett Light .50
Manufacturers: Barrett Firearms Manufacturing, Inc. and Unertl
Length: 57 inches (144.78 centimeters)
Barrel length: 29 inches (73.67 cm)
Weight: 32.5 pounds (14.75 kilograms) (unloaded)
Bore diameter: 12.7mm (.50 Caliber)
Maximum effective range on equipment-sized targets: 1800 meters
Muzzle velocity: 2800 feet (854 meters) per second
Magazine capacity: 10 rounds
E-Factor: 28
Features: The M82A1A is a semi-automatic, air cooled, box magazine fed rifle chambered for the .50 caliber, M2 Browning Machine Gun cartridge (.50 BMG or 12.7 x 99mm NATO). This rifle operates by means of the short recoil principle. The weapon system is comprised of the rifle (M82A1A) with a Unertl 10-power scope and an additional box magazine. The system comes packed in its own watertight, airtight carrying case with an air release valve for aircraft transportation and the requisite cleaning rod and brushes. The basic M82A1A rifle is equipped with bipod, muzzle brake, carrying handle, metallic sights, and 10-round box magazine. There is also a back pack for cross country transport and a bandolier for extra magazines is available.
This was a natural first choice for the KFS, as the main manufacturing plant is in Muffreesboro Tennessee. This is inside their primary area of control.